Anthon
# 8 Dog of All Breeds in Sweden 1998
#1 Afghanhound male in Sweden 1998
BIS Int. Nord Swed. Fin. Norw. & Dk. Ch.
Xciting So Far So Good
7th of December 1993 - 15th of October 2005
Sire: Ch. Yesterday Today And Tomorrow Dam: Ch. Xciting The Jazz Lady
Breeder and Co-owner: Britt-Marie and Carina Ekwall, Sweden. Kennel Xciting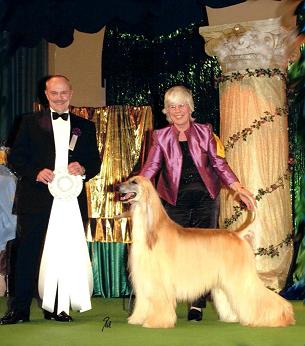 Anthon won Veteran of Veterans under Göran Bodegård 2002

Anthon was something special for us . He was sired by our Fred and out of a daughter of one of our dearest old afghans Int Ch El Khyrias Never Say Never Again (litterbrother to Fred´s dam E K Never The Less). His granddam was a daughter of another of our late afghans Ch El Khyrias Do The Impossible.

Anthon #8 topwinning dog of all breeds in Sweden 1998.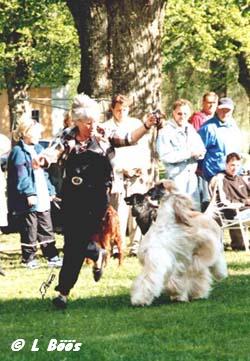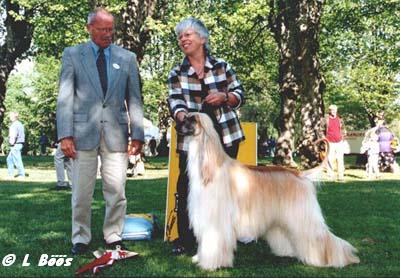 Anthon went BIS at Österbybruk Int Show springtime 1998
Judge: Mr Frank Sabella, USA
Mr Sabella wrote a juding report in Dogs In Rewiev September 1998:
...the thrill of the day came when Göran and I strolled over to Carol Reisman's ring just in
time to see her award Best of Breed to one of the most beautiful Afghan Hounds I have had the
pleasure of seeing in a long time. This dog, Xciting So Far So Good is square, has the most beautiful
balance and proportion, great head, long neck, level topline, correct tail, can come and go flawless,
and is perfection in sidegait. He is all male and truly proud and arrogant.
Carol Reisman had no problem giving him the the Group later that day.
Later, when I asked her for a comment, she said,
"This dog carries himself and uses himself in the style of one of my all-time favourites in the breed,
Ch Rajah´s El Cid. He´s a true hunter, very powerful, lightfooted and with a style of high order.
I would like to see him in competition here in USA. I am sure that if he were here,
Afghan breeders would quickly invite him to their bitches boudoirs".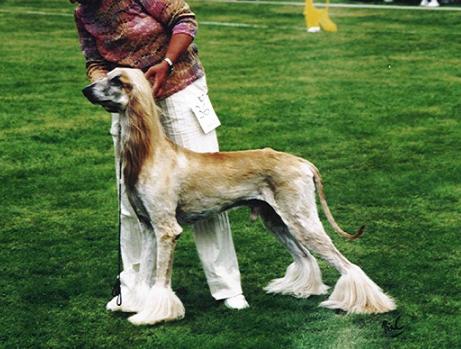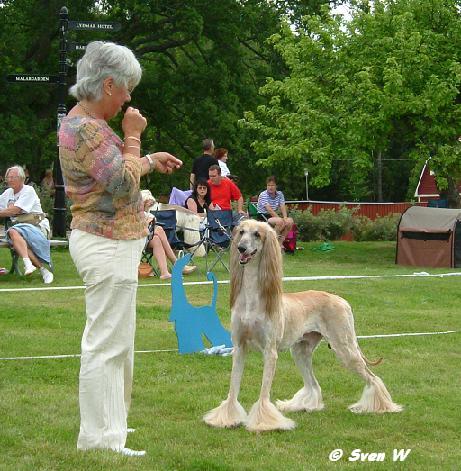 Anthon pictured at Tammsvik Sighthoundshow July 2004