Fred
#11 Dog of All Breeds in Sweden 1996
#1 Afghanhound in Sweden 1990
#1 Afghanhound in Sweden 1996
Int. Nord. S. N. DK,. Fin. Ch. DE&VDH Ch.
KBHV-94. SV-96.
Sieger Berlin 1995, 1998
Yesterday Today and Tomorrow
13th of Augusti 1988 - 11th of July 2001
Sire: Ch Pahlavi Puttin´On The Ritz Dam: Ch El Khyrias never The Less
Breeder. Åge Gjetnes, Elsa Storesund, Norway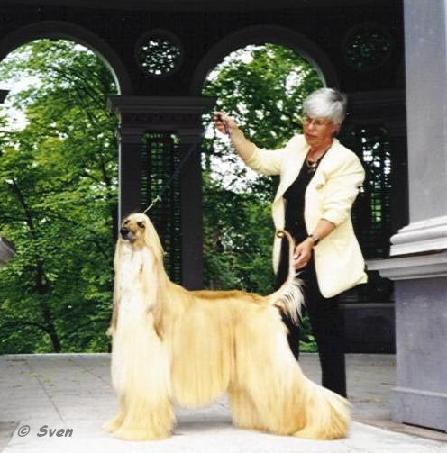 Fred in Haga, Stockholm 1999

Fred came to us from Åge and Elsa in Norway after our (Elisabet and Sven) first trip together to Australia in November 1988.
Fred was Elisabet´s favorite and Fred loved her, he was always ready to do his best at the shows just to please Elisabet, they were a marvelous team together.
One of my best show memory of Fred is when he at an age of 10 years was BIS #2 at the International Sieger Berlin Show, springtime 1998.
/SW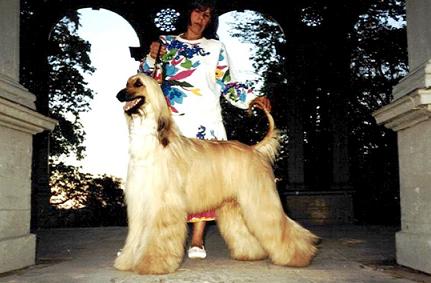 ©SW
Fred in Haga, Stockholm 1990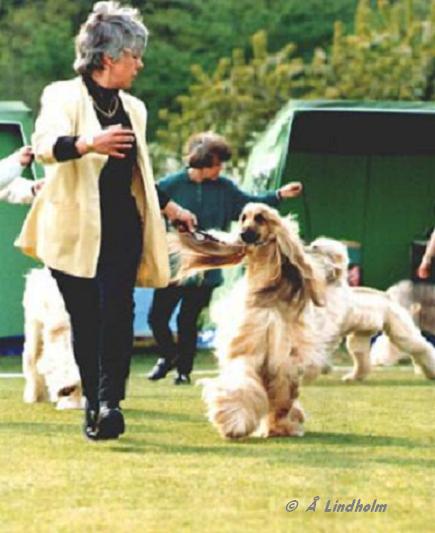 Fred and his prodgeny group at Bosjökloster 1995