Jalna
#5 Topwinning Dog of All Breeds in Sweden 2002
#1 Afghanhound in Sweden 2002
#1 Afghanhound bitch in Sweden 2001
Int Nord S N Fin Ch.
SV-02
Punapaulan Jalna
born: 5th of April 1996 - 3rd of August 2009
Sire: Ch Yesterday Today and Tomorrow Dam: Ch Punapaulan Adele
Co-owner/Breeder: Riitta Aho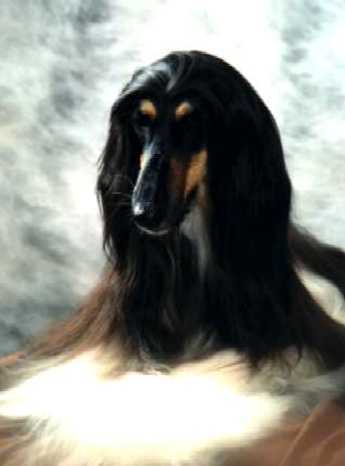 In 1998 Jalnaīs breeder Riitta Aho left Finland for a trip around the world, Jalna spent her month of vacation in Sweden with us. Jalna never returned to Finland after that month, she spent rest of her life in Sweden, so what happened?
Sven fell in love with Jalna, he just couldnīt resist her expression, movements the whole package of an superb Afghanbitch. Fortunately he came to an agreement with Riitta, so everything turned out well.
We have never regret that we used a coupled of hours in telephone to persuade Riitta to let Jalna stay with us,
thank you Riitta.